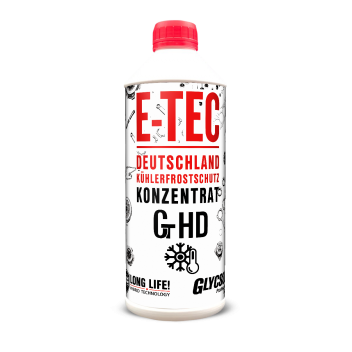 Antifreeze Concentrate E-TEC HD
Benefits:
pure liquid;
unlimited soluble at Monoethylene glycol;
provides high-grade corrosion and cavitation protection;
successfully testing at corrosive effect to: aluminium, brass, copper, iron, steel, solder.
E-TEC HD is a concentrated Monoethylene Glycol based coolant, in combination with the additive package , intended for the protection of cooling systems of HEVY DUTY ENGINES, which must be diluted with water before use.
Mixture of high-concentrated corrosion inhibitor according to corrosion norm STN 66 8910, ASTM D 1384, ASTM D6210. Does not contain aminies, phosphates.
Formulation contain nitrite and molybdate. Meet international and military standards: BS 6580, E/L 1415c, NATO S 759, ASTM D 6210, ASTM D 6211, UNE 26361-88, FVV Heft R 443, CUNA NC 956-16, KSM 2142
HD is suitable for use in open and closed cooling systems. It provides maximum protection from freezing in winter and from overheating in summer. It provides improved protection against corrosion of all metal parts - aluminium, brass, copper, iron, steel,solder.
It prevents formation of foam and deposits. It guarantees improved heat transfer, providing increased engine flexibility and maximum reliability to users.
It does not containamines, phosphates. It meets the highest requirements in terms of corrosion and cavitation protection in thermally highly loaded HEVY DUTY ENGINES.