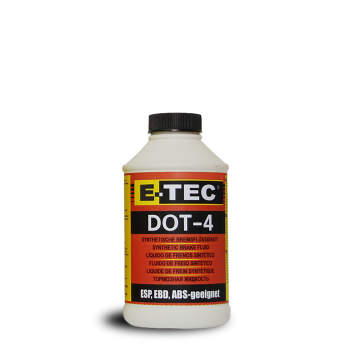 0.3l met
0.3l plast
0.5l met
0.5l plast
1L plast
Brake fluid DOT-4
Special Icons:
Benefits:
- good corrosion protection for metal components;
- suitable for all disc, drum and anti-skid braking systems;
- high boiling point minimizes vapor lock at high operating temperature.
Is universal high quality brake fluid produced on the basis of poly-glycol esters. Notable for excellent lubricating and anti-wear properties, high physical and chemical stability, exceptional anti-rust and anti-corrosion protection of metal parts and elements. Excellent flow characteristics at low temperatures combined with high boiling point guarantee wide temperature range of operation and minimize chances of vapor lock formation E-TEC DOT-4 surpasses specifications SAE J1703, SAE J1704, ISO 4925, FMVSS no. 116 DOT 4.
Bar code:
0,5L plast - 4260283350124, 1L plast - 4260283350117